Diese Veranstaltung hat bereits stattgefunden.
Bebop Konzert // The Devils
9 Mai, 2022
/
7:30 pm
–
11:30 pm
Bebop Konzert: The Devils // 9.5.2022 // Asta Kneipe Rosenheim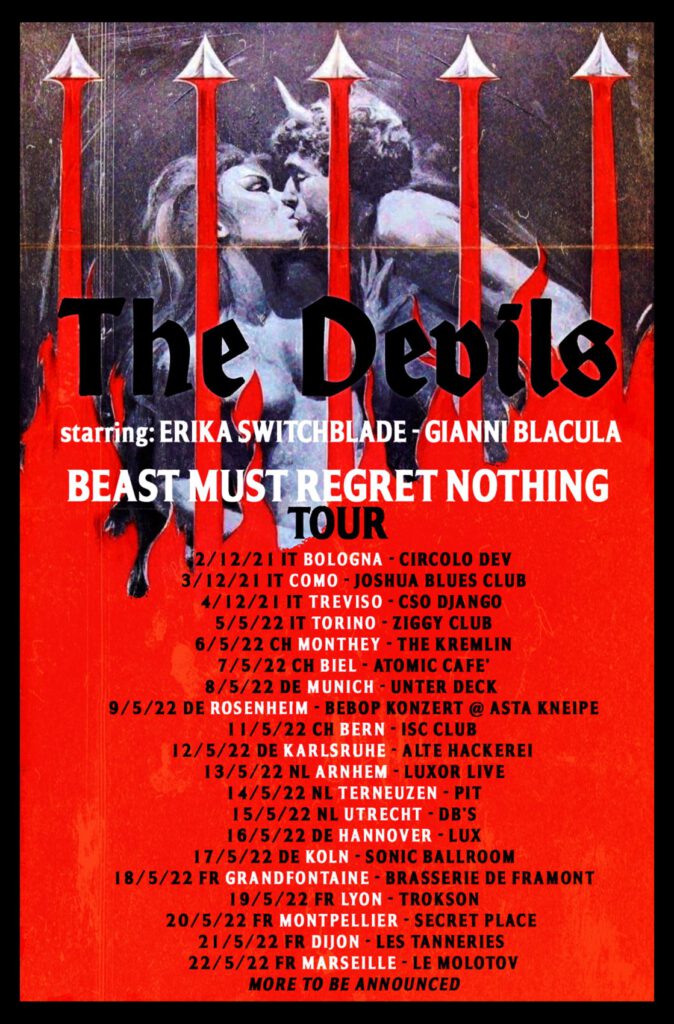 //The Devils // LOUD SAVAGE TRASH FROM NAPLES IN ITALY! 
The Devils formed in The Deep South Of Italy Neaples in 2015, Recorded 1st and 2nd Full Lenght with Jim Diamond (the Dirtbombs, White Stripes etc) hooked up with Voodoo Rhythm Records and Toured all over Europe (about 200 showa a Year!!) since then. Gianni Pregadio plays the Guitar and Sings and Erica Toraldo hits the Drums and Screams in the Microphone, This is a Huge Wall of Guitar Fuzz and Noise and Vocals as Minimalistic and Primitive as it gets, this is No Bob Dylan poetry thats pure Evil and Lots of Fun !! Chainsaw Massacre Hysteric Earbleeding Vocals and the Drumer probably Eats Speed and Power Food for Breakfast, they are Dressed up as Preacher and Nun and Destroy every Stage that they can play on, they Are Hot and Wild Very Loud and Very Very Sexy !!!!! 
https://www.thedevils.info
https://www.voodoorhythm.com/127-artists/the-devils.html