Diese Veranstaltung hat bereits stattgefunden.
Elba Sonica Festival 2019
27 September, 2019
/
12:00 am
–
29 September, 2019
/
11:30 pm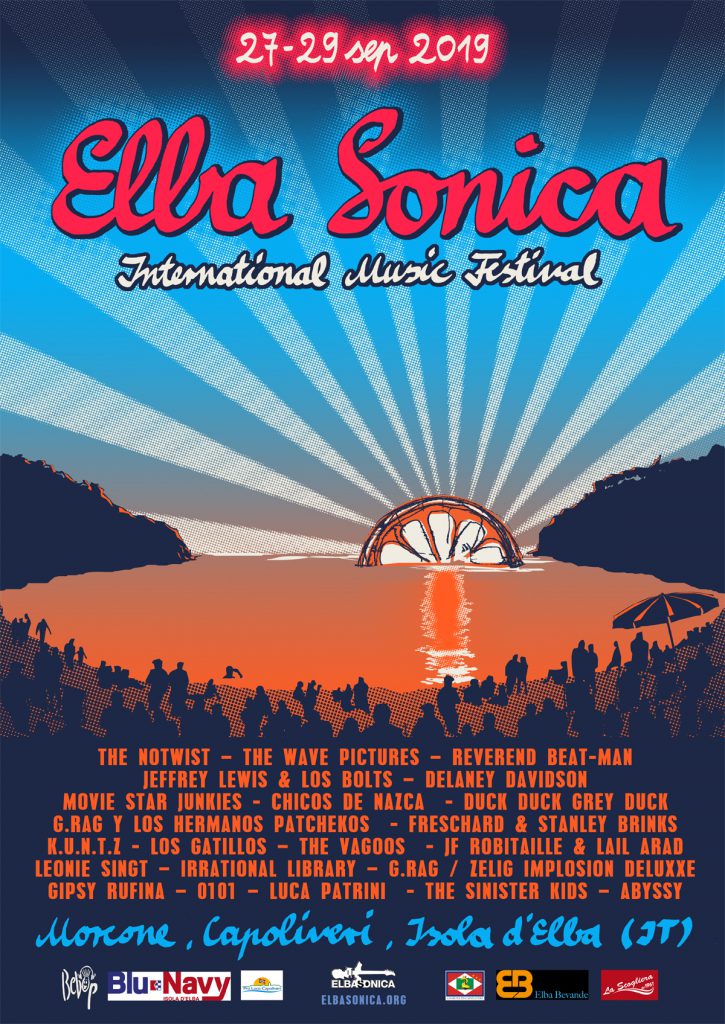 // ELBA SONICA FESTIVAL
// 27. – 29. SEPTEMBER 2019
// ISOLA D'ELBA – LOCALITÀ MORCONE – 57031 CAPOLIVER (LI) – HOTEL LA SCOGLIERA
Sun, beach and music, music, music: Elba Sonica!
Listening to live music while dancing in the sand, enjoying a campari at the beach or going for a swim in the Mediterranean Sea? The idea of an international music festival came true 2017 for the first time – invited by Piero from hotel La Scogliera and Bebop record store Rosenheim awesome bands will play at one of the best places in the world again.
In September, Morcone Beach on the Italian island Elba will turn into a stage for an international independent festival once more: 3 days with 22 bands from 11 countries.
Indie-Rock, Gospel-Trash, (Anti-)Folk, Psychedelic Rock, Folk-Blues, Garage Punk, etc. will sound over Morcone bay and through the historic old town of Capoliveri; a holiday full of concerts!
The Notwist (DE) – The Wave Pictures (UK) – Reverend Beat-Man (CH) – Jeffrey Lewis & Los Bolts (US) – Delaney Davidson (NZ) – Movie Star Junkies (IT) – Chicos De Nazca (CHL) – Duck Duck Grey Duck (CH) – G.Rag y los Hermanos Patchekos (DE) – Freschard & Stanley Brinks (FR) – K.U.N.T.Z (AUT) – Los Gatillos (FR/CH) – The Vagoos (DE) – JF Robitaille (CA) & Lail Arad (UK) – Leonie Singt (DE) – The Irrational Library (NDL) – g.rag / zelig implosion deluxxe (DE) – Gipsy Rufina (IT) – 0101 (DE) – Luca Patrini (IT) – The Sinister Kids (DE) – Abyssy (DE)
Afterhows by: DJ Slovenly – DJ Caribbean Thomas – DJ Curled – DJ Drunk